Technical Details/Specifications:
1 x Domain (Name.co.za)
5 x Email Addresses: name@name.co.za
Web Mail access from browser. (Any Location)
AntiVirus & AntiSpam.
What is a domain name?
A domain is the name of your website. Before you can run a website, you will need a domain.
It is not something physical that you can touch or see; it is merely a string of characters that give your website an identity. Now, here are some quick examples: Google.com is a domain name; so is Alexa.com, as well as Yahoo.co.uk.
To have your own domain, you will need to register your domain with a domain registrar.
Don't worry, we do all this for you if you haven't already.
The difference between a domain name and web hosting
Domain name and web hosting are two different things. Don't worry, we include both!
It's important to be clear on the differences between the two before you move on to your first website. To simplify: A domain name, is like the address of your home; web hosting on the other hand, is the space of your house where you place your furniture. Instead of street name and area code, set of words or/and numbers are used for the website's naming. The same goes with hosting, computer hard disk and computer memory are used instead of instead of wood and steel for storing and processing data files.
The idea is presented clearer with the diagram below.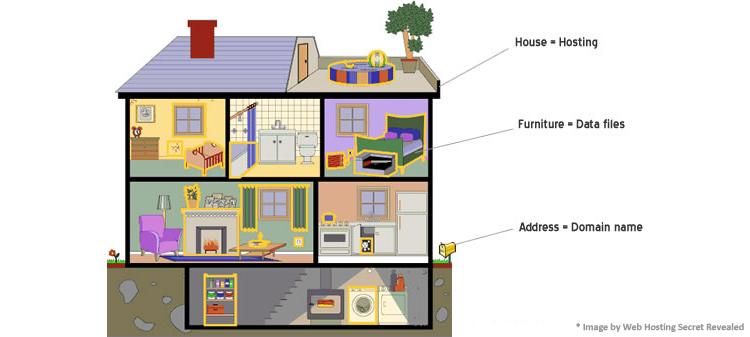 What is a web hosting?
Web hosting is a place where people store their websites.
Think of it as a house where you store all your stuffs; but instead of storing your clothes and furniture, you store computer files (HTML, documents, images, videos, etc) in a web host.
More often than not, the term "web hosting" refers to the company that rent out their computer/servers to store your website and provide Internet connectivity so that other users can access to the files on your website.
We offer our clients domain registration, renewal, transfer and web hosting at a very competitive rate. Please contact us for more details